There are times and seasons in life that require more from us than what we think we are capable of giving. When stresses pile up. When bills beckon. When life seems to be stacked against us. It is all so very disheartening.
It can be even more challenging when all of these arrive just in time for Christmas. It is supposed to be a time for cheer, a time of extravagance, of gifts and toys and pleasures all around. These expectations leave so many feeling like they are on the edge of a party they aren't worthy to enter.
If you find yourself at that place this Christmas season, longing to give gifts and celebrate at parties but you don't have extra cash to spend or a kitchen with a double boiler with which you can candy coat the world, take heart. Here are some easy, and I do mean easy, and inexpensive (yippee!) ways to create a home-made Christmas on a budget.
Bonus! Two of the projects are recycled/upcycled so you get to feel good about saving the planet as well!
1. Cell Phone Pocket for Charging
Do you have an old pair of jeans lying around? Like maybe the ones in your closet that are 3 sizes too small and you always thought that someday you'd wear them again? Today is the day for sacrifice. Cut the back pocket carefully from the jeans extending that cut up and over the seam above the pocket before you get to the waistband. Then cut a little window just above the pocket and below the upper seam. It should look like this: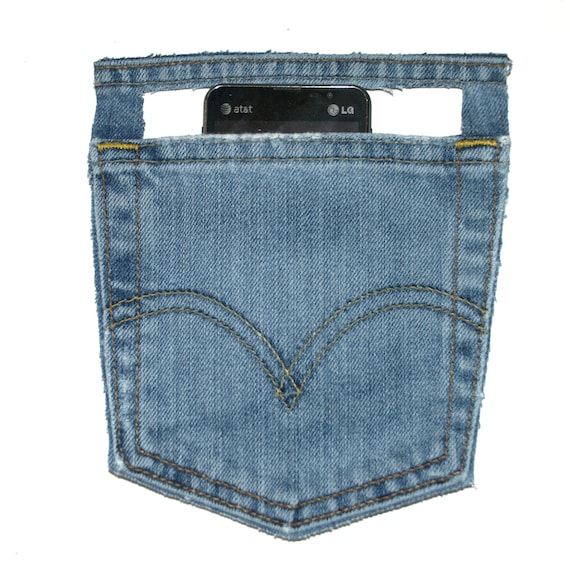 You can, if you want and are able, sew or glue a ribbon or edging around the cut edges to pretty it up, or just leave it raw.
You can, if you want and are able, glue or iron on some personalizing glitz to make the pocket sparkle, or just leave it natural.
The pocket works like the images below, slip your phone in and hang the phone from the charger plug. It is handy for travel when outlets may not be near a shelf and you don't want your phone lying on the floor.
2. Flannel or Fleece Scarf
Flannel and fleece are awesome because they don't fray terribly so you can get away with no sew projects that have rough edges. If you can cut a relatively straight line and you have $2.50 to spend on a fleece throw from Walmart, you have enough for several gifts this season.
Walmart has these fleece throws for $2.50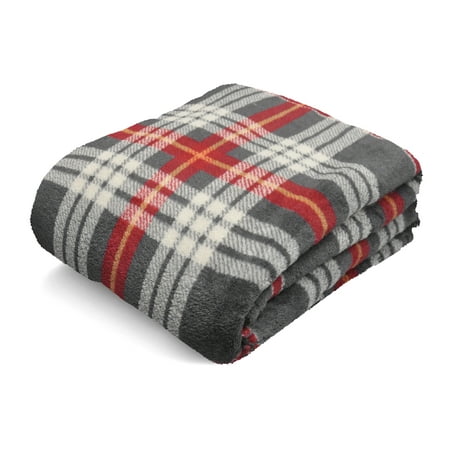 They measure 50 inches by 60 inches. they have an edging sewn around the whole throw and you can either trim that off first, or simply cut the edges off that you prefer. If you have a ruler, pull it out. If you don't have a ruler, hang tight, we'll fold and cut instead.
Measure in 10 inch sections, or if you are feeling generous, 15 inch sections. Snip the edge of the blanket to mark 6 10 inch scarves, or 4 15 inch scarves.  Fold the blanket at the mark and cut the length of the fold. If you don't have a ruler, simply fold the blanket in half, cut the length of the fold. Fold the two pieces in half again and cut the length of the fold. Voila!
If you really want to make it fancy, trim edging from all sides and cut 1 inch fringe along the bottom and top edges.
Ok, t-shirt repurposing time!
4. Make a Bag or a Scarf from a T-shirt
You can do this simple, two cut scarf in about 3 minutes.
Just lay the t-shirt flat. Cut a straight line across the entire t-shirt, front and back, from one underarm to the other. Then cut off the bottom hem of the shirt. Pull the shirt to cause the edges to curl and you are done!
To make a bag, follow these easy steps, top to bottom first column, then top to bottom second column.
Turn t-shirt inside out.
Lay t-shirt flat, like the first picture. Cut off the hem.
Fold t-shirt in half and cut the sleeves off just inside the seam.
Still folded, cut the neck from the t-shirt just inside the seam.
Gather the bottom of the shirt and tie it super tight with the hem piece you just removed.
Turn the bag right side out and Ta-Da! new tote bag!
There are just four of the low to no cost gift ideas you can make at home with little time and just a pair of scissors!
I hope you have a blessed Christmas season.
I hope you give yourself and others grace for the difficulties that come at the most inconvenient times.
I hope you find ways to celebrate that don't break your budget and still allow you to join in the holiday fun!
Low cost ideas, little energy input, and the joy of giving!
ReFreshing