Our youngest turned 4 this week, and he wanted a Batman cake. His birthday was a busy day for me, I had an out of town meeting plus some other work that kept me busy until 3 o'clock. A quick trip to the store and there were no pre-decorated cakes that would do.
I could have ordered a cake from any number of local cake artists, but we can't afford custom cakes for every birthday. Besides it was much too late now!
We bought a cake with blue sprinkles around the edge and blue border decorations and I decided to rely on a trick I have used before to add some flair to a plain cake. You can use this same method to add your own style to any cake for the price of frosting, a printed page, and some wax paper.
I'm including some photos so that you can follow along. The picture of the final product was taken on my cellphone, sorry for the quality. I would take another with my nice camera, but unfortunately (or fortunately depending on how you look at it) the cake is now half-eaten.
First decide what image you want on your cake. You can use characters, graphics from video games, floral patterns, anything that will print clearly from your home printer. We needed Batman, below is the image we printed. Whether you are using a homemade cake or a store-bought cake, when you print your image make sure you take into consideration the size of your cake and the dimensions of the image. We copy and pasted this image into Word and resized it to fit the available space on our store-bought cake.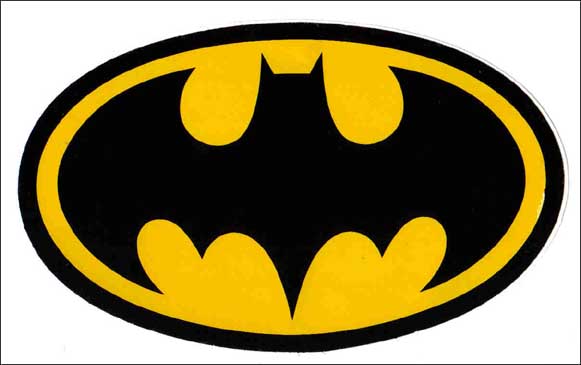 Next you need frosting to match your design. I made a batch of cream cheese frosting because I like the taste and consistency. Use whatever you like. Make your own or buy it already-made, this mom isn't judging!
I decided to make the outer border in blue to match the decorations already on the cake. We keep food coloring on hand, so this was not an expense for me. You can find gel coloring in most grocery store baking aisles. I divided my frosting and tinted one bowl yellow, another black, and another blue.
You may have the requisite tools for piping frosting, if you do this next step is easy. If you do not have piping bags and tips, do not fear I have a trick for that as well! Zip-top sandwich bags make great single-use piping bags for small amounts of frosting.
Load the frosting into your bags, and if you are using zip-top bags, snip the corner off of your bag. Start small, you can always make the hole bigger, but you can't make it smaller!
Take your printed image and lay it on a flat surface. I like to use a cutting board or the back of a cookie sheet so that I can pick the whole thing up and pop it into the freezer to firm up before applying it to the cake. Lay a sheet of wax paper over your image, you should be able to see the image clearly through the wax paper.
Now, you can choose what order to complete your design. I would suggest one of two approaches. Either start with the center of your design and work your way to the edge or start with the lightest color of frosting and work your way to the darkest. Both of these methods work to keep your colors from muddling or smearing together.
Using your piping bags, trace out the design with frosting matching the underlying image. If your design is small, you might be able to lift semi-frozen frosting from the wax paper and transfer it to the cake with a knife or spatula. If you have a large design, you need to flip your image over onto the cake. This is good to keep in mind as you fill in your design. The part you see as you decorate will face the cake. It is important to keep your frosting in the right zone. If that black gets on the yellow part of the design, I have to scrape it off. You can see my handy toothpick and butter knife that help me stay within the lines.
When you have traced each part of the design and filled in the larger areas with frosting, pop it into the freezer for a few minutes (up to 30) to firm up. This will make it easier to remove the frosting from the wax paper.
You can see,  I'm not concerned about keeping my colors in place on the part I can see since it will face the cake.
When your design has firmed up, line up your image where you want it and lay it gently (paper-side up) onto the cake. Press gently in the middle, top, bottom, and sides so that it sticks. Carefully peel the wax paper off of the image starting at one edge and working your way across, lifting and rolling the paper as you go.
With a knife, or your toothpick, smooth any areas that need a touch up, and voila!
We added some gummy bat symbols to the edges, some star candles and the design was complete.
I hope you can confidently customize your own cake for birthdays or any occasion!
Saving time and money with semi-homemade birthday cakes,
that's ReFreshing!